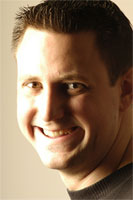 Headed by BAFTA winning* and Writers' Guild of Great Britain nominated** video game veteran Martin Korda, VideoGameConsulting.com brings together an elite team of international industry experts to help give your products the edge they need in an increasingly competitive and crowded marketplace.
Whether you're a multinational publisher/developer seeking in-depth evaluations of AAA games, a PR looking for mock reviews or a fledgling company seeking expert opinion on its debut title, VideoGameConsulting.com offers professional advice on all levels.
VideoGameConsulting.com's Managing Director Martin Korda has built a formidable reputation throughout the games industry, having consulted on over 300 video games for many of the world's largest and most well respected development and publishing outfits, including Electronic Arts, Sega, Ubisoft, Atari, Activision, THQ, Codemasters, Square Enix/Eidos, Sierra Games, Ubisoft Montreal, Bethesda, Lionhead Studios and Valve Software.
For fifteen years, the former PC Zone senior reviews editor was one of Europe's most widely published games journalists and critics, with his extensive writing credits including The Guardian, The Guinness Book of Records: Gamer's Edition, IGN.com, Eurogamer, computerandvideogames.com, GamesIndustry.biz, PC Zone, PSW, CVG, Official Xbox Magazine, Official PlayStation Magazine, Stuff, Stuff Gamer, Xbox World, PC Format, Continue Magazine, PSG, PC Gear, Total PC Gaming, SFX, Computer Buyer, Computer Shopper and Gamezebo.com.

Martin has also become one of the most active and versatile scriptwriters, narrative designers and story consultants within the industry, with his video game writing credits including blockbusters FIFA 17: The Journey, Destiny: The Taken King, Fable: The Journey, Need for Speed: Rivals, No Man's Sky, Black & White 2 and BAFTA winning simulation The Movies, to name but a few.

In 2006, Martin created VideoGameConsulting.com bringing together the cream of international gaming experts - including US Associate and former VP of Product Acquisitions for Microids and Director of Acquisitions for DreamCatcher Interactive/The Adventure Co, Scott Steinberg (right) - to provide developers and publishers with unparalleled expertise and advice for ways in which to improve and market their products, as well as offering professional scriptwriting services.
Check out Martin's testimonials here.
*Lead writer and consultant on The Movies, winner Best Simulation BAFTA 2006.

** Writers' Guild of Great Britain nominee (2017) for FIFA 17: The Journey (Best Writing in a Videogame) .